PASSCHIP

Reader Functions Benefits Galery Downloads

This state of the art access control chip reader is specially designed for advanced ID Banking filtering processes to self service areas ( ATM Lobbies or ATM Vestibules). Our filtering algorithms may let access to programmable groups of users as decided by system's administrator.

The security platform is designed for a secure access control process using the CHIP acces cards (credit cards or simply smart cards) alone or combined with PIN and biometric technology.

This product is mainly dedicated to banks and financial institutions, with possibilities of usage in law enforcement agencies, telecom providers, closed circuit institutions/clubs and other organizations for a secure and efficient access in sensitive areas using advanced contact chip reader technology.

It can be connected to any access control platform using the most commonly used data formats like RS232, Clock and Data or Wiegand with up to 64 bits of data.

It is standard delivered with a solid TCP/IP interface for fast and continuous communication with the centralized security center in order to be online updated and controlled by system's administrator.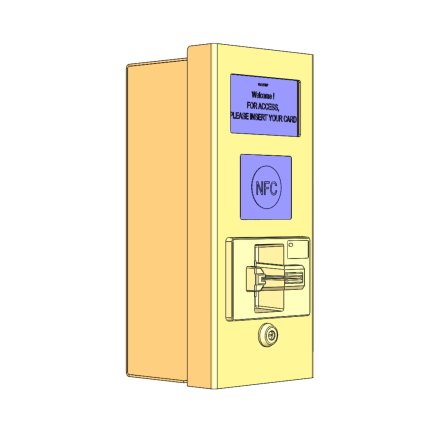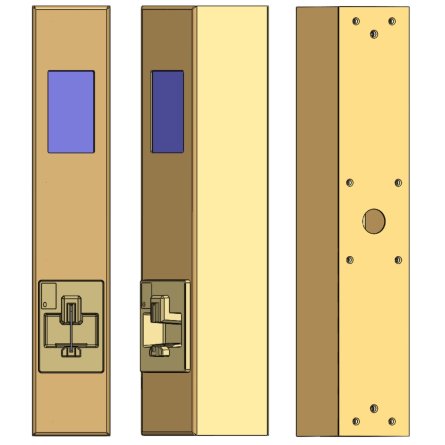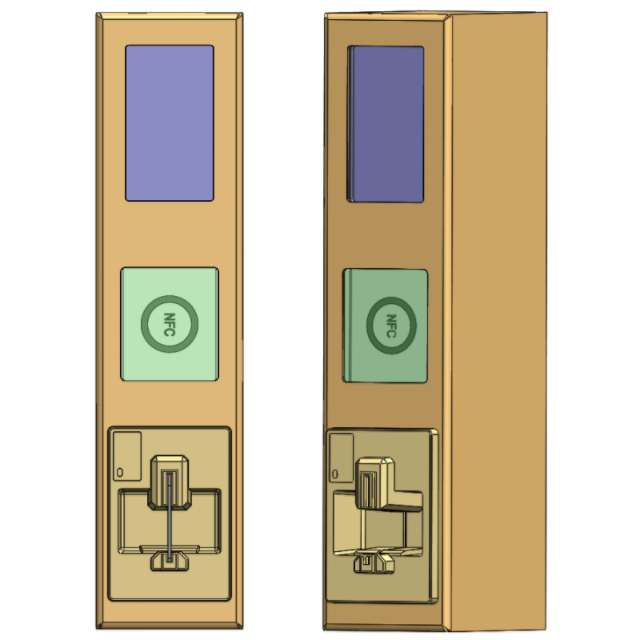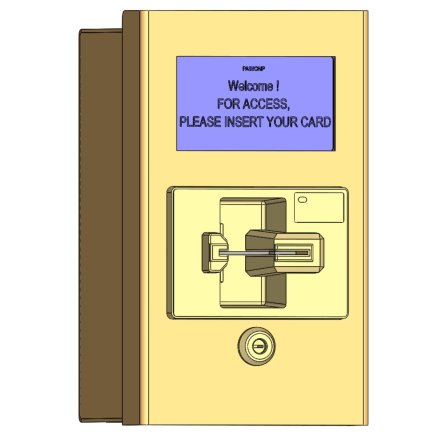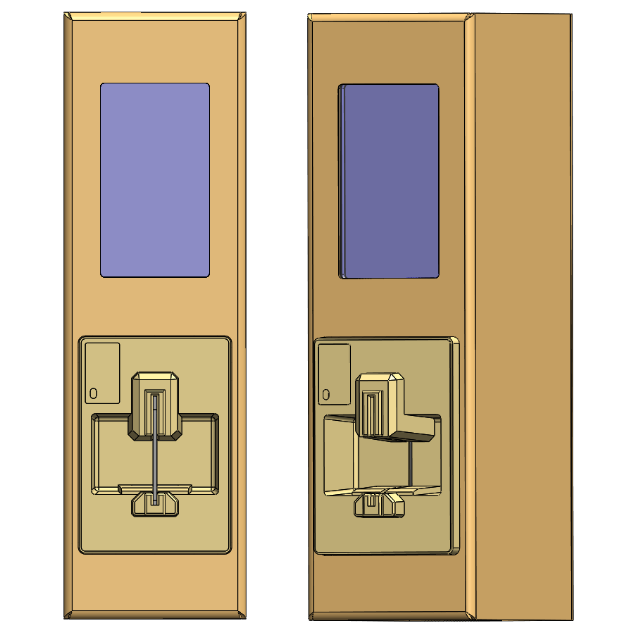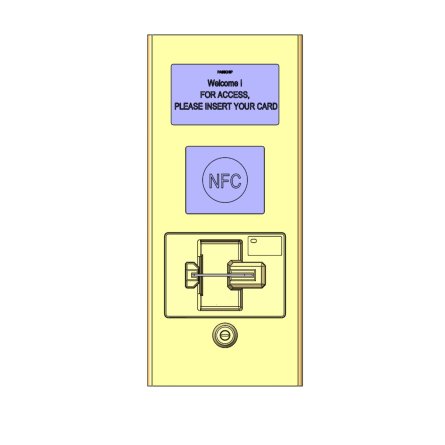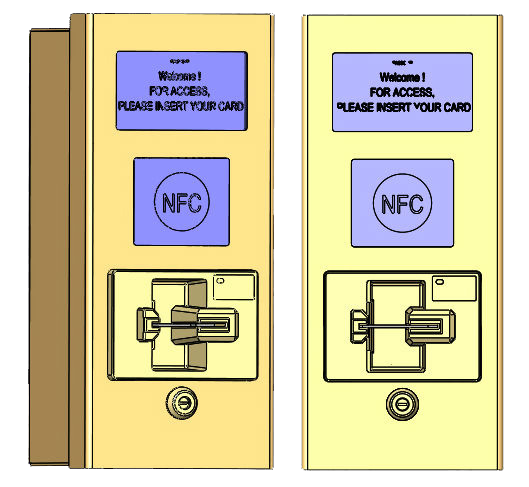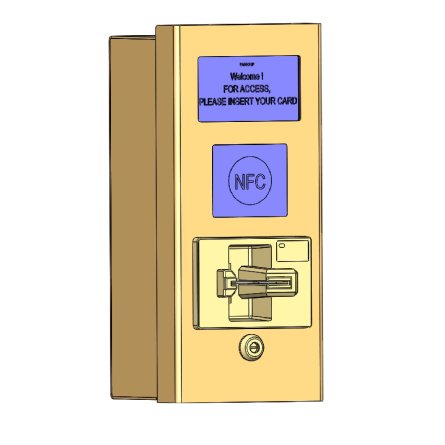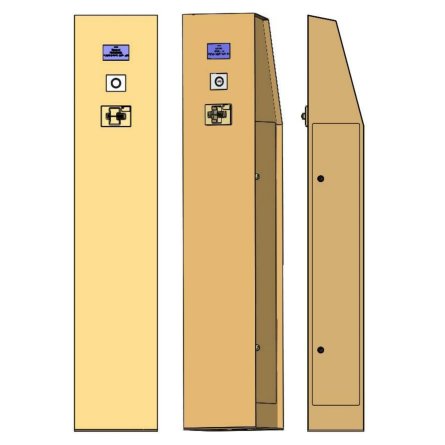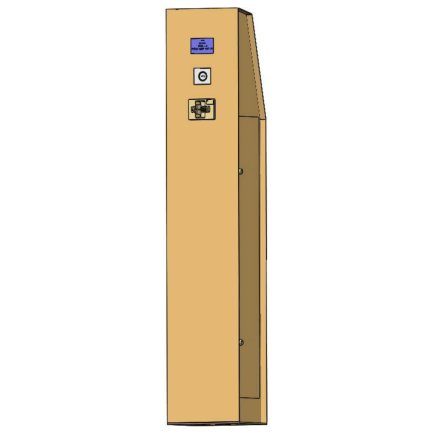 Functions
Banking automation filter against unauthorized access in the self-service zones or any other protected areas
Advanced design for integration in any classical or modern façade
Available optional slim-line installing pillar Compact dimensions with tamper-proof solid stainless steel case-brush finishing or painted
Full color or monochrome LCD screen Ready for virtually displaying any text language, pictograms and animation depending of the software customization
Visual and acoustic signals for interfacing with the user
Centralized network upgradable while running using an user friendly interface
Antiskimming and coin proof construction with mechanical shutter
---
Benefits
Protection of customers during self-service procedures
Protection of ATMs and banking assets against unauthorized usage
Extremely reliable product with an excellent ROI rate
Proven long life service May be integrated in new or existing access control installations
May be linked and integrated with CCTV, fire and intrusion detection through any integrated security platform
Excellent substitute to human guard patrol service
Passchip Models
Model
Case Dimensions
H x L x D mm
Stainless Steel Case
Contact CHIP Reader
NFC Reader
4.2" Display
Power Source 12V
PS0
Without Case
PS1
330x138x124
PS5
255x138x124
PS1.1
500x90x120
PS5.1
500x90x120
PS1.2
380x90x120
PS5.2
300x90x120
TOTEM
1500x300x200
PILLAR
1500x138x180
For a more detailed view Click here
Dimensions of parts:
Display

: 76x120x20
NFC Reader

: 76x120x20 *Only on models that are configured with NFC
CHIP Reader

: 76x120x20
Controller (Includes Power source)

: 76x120x20