Police: ATM Vestibules give false sense of security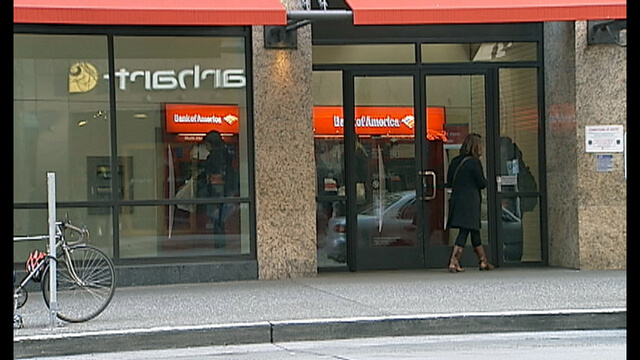 Many banks have added glass enclosures around their ATMs to provide security – but KIRO 7 has shown that in many cases it doesn't take a bank-issued card to get inside. Police who investigate street robberies say career criminals are well aware of this security loophole. However, top police officials didn't know this until seeing video from KIRO 7 – and say ATM users should change their behavior because of the false sense of security. KIRO 7 found – and police confirmed – that most ATM vestibules do not keep a record of which cards were used to open the security door.
In March, a blind man was robbed inside the Bank of America ATM vestibule at Westlake Park. He told KIRO 7 he chose the ATM in part because he thought it would be more secure to access his cash inside the glass enclosure. Security video shows the suspect -- who has been arrested and charged -- swiped a card to get inside the ATM behind the blind victim. While police aren't sure which card the suspect used to get inside, they say that specific ATM could be accessed by a variety of non-bankcards.
KIRO 7 put it to the test. We found gift cards for MasterCard and American Express would open the secured door – and we bought those at Safeway. "That kind of throws the security aspect out the window, doesn't it?" King County Sheriff John Urquhart said after watching KIRO 7's video showing how the non-bankcards worked. At an Umpqua Bank vestibule we got in with a Starbucks card, a Safeway card, gift cards for McDonald's, Wendy's and Gymboree. Even a Costco card and a hotel room key worked to get through the secure doors.
At a Wells Fargo vestibule, all but the hotel room key worked to get through. "If someone can get in right behind you and they don't need an ATM card from the bank to get in, that's no good," Urquhart said. KIRO 7 pressed the banks for answers. Bank of America refused to speak on camera or even give a written statement. Umpqua Bank and Wells Fargo also refused. All three referred us to the Washington Bankers Association, and KIRO 7 setup an interview with an association spokesman. But the Washington Banker's Association cancelled the interview.
No bank that KIRO 7 contacted provided answers for why the supposedly secure vestibules could be opened with a gift card. "Shame on the banks for allowing this," said Seattle police detective Renee Witt, who also is a department spokeswoman. "Honestly I thought the whole point of having you swipe your card to enter the enclosed vestibule was so they could keep a record so they could track who was going in and out."
The companies also argue that the lack of judicial oversight might also be a problem. Too much power is given to one branch of government, they argue, and make it hard to predict what the government may ask for next.
Urquhart and Witt both said the safest way to get cash from an ATM is it you use a drive-up ATM. That way you can control the environment and you can drive away if threatened. Witt said she was surprised by KIRO 7's video and that using those vestibules is "just not safe." "I would say avoid them," Witt said. "I will never go to one of those enclosed ATMs now that I know this."